It's the holiday season!
Also in The Netherlands the holiday season has started! It is not all about Christmas, since the holiday season is a mix of several feasts. Later on more about that. If you are planning a visit to a destination somewhere in The Netherlands during this time of the year, then continue reading this blog to learn more about what you can expect.
1. Christmas markets
Everywhere in The Netherlands you will find Christmas markets. The bigger cities often organize more than one, and if you search something special you should visit the Christmas market located in Amsterdam in Vondelpark: it has a Finnish/Scandinavian theme! In case you are looking for something really special, you will have to travel to the south of the Netherlands, to Valkenburg to be more specific. In this city you can visit a Christmas Market in a cave!
2. Ice skating
The closer we are heading towards Christmas, the colder the weather will become. Although it will not always be freezing, in several cities you will find created icerinks in a special Christmas atmosphere. Skates are for rent often, so don't worry if you have never done it before: try to skate a round, it's fun!
3. Christmas sale shopping!
Are you not that much in the holiday season mood, but you are in for a nice time of sale shopping? Then this is also the time for you! Around mid-November the winter sale starts, and it will continue until January. It is a great time for sale shopping in order to find that one nice piece you were already looking for for a long time.
4. Specials
A couple of cities in The Netherlands have taken the creation of the holiday season atmosphere to the next level. In the south of the Netherlands you should really visit Maastricht or Valkenburg. Next to Christmas Markets, icerinks, and a lot of sale shopping, you will also find special Christmas expositions, such as a route with Nativity cribs from all around the world, and routes with Christmas lights and light shows. In the west of The Netherlands you can experience the ultimate Christmas in Amsterdam, but also in Rotterdam! Both cities contain more than one Christmas market in several areas of the city, special routes with Christmas lights and more!
5. Sinterklaas and the other feasts of December
In The Netherlands happens more than only Christmas around this time of the year! On November 11 Carnival starts, and we celebrate St. Maarten, a night in which kids ring the doorbells in the neighborhood for candy. December starts with another feast before people buy and decorate their Christmas trees. It's about a magical figure called Sinterklaas, a saint from Spain, who comes to visit The Netherlands every year with a big ship full of presents which he gives to the children at 5 December. If you want to see how he arrives with his ship filled with presents: make sure you are in The Netherlands around the 15th of November!
Visiting The Netherlands in November and December will give you an unique experience of the holiday season. You can read more too in my other blogs:
What to expect in The Netherlands during the holiday season
5x places to go in Amsterdam during winter
In case you will be visiting Amsterdam, check out the I amsterdam City Card* The I amsterdam City Card is your ticket to a more affordable, action-packed trip to Amsterdam. It provides free entry to the city's top attractions, unlimited travel on public transport, a free canal cruise and significant discounts and giveaways.
Would you like to save this information on Pinterest? Great! You can use this image to do so: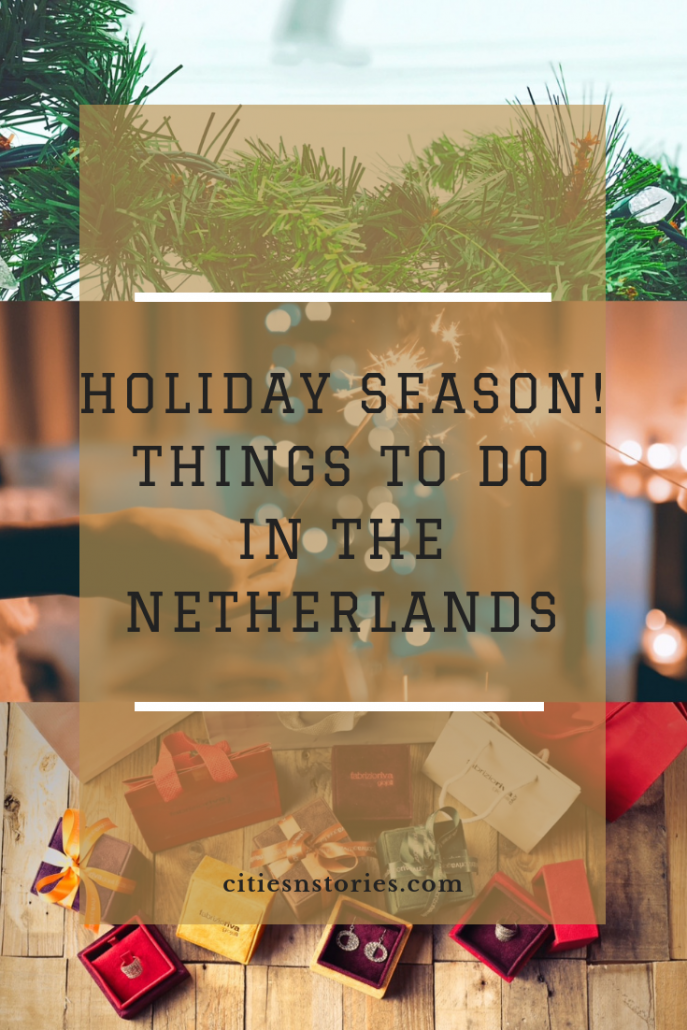 this is an affiliate link. Thanks for your support!
http://test.citiesnstories.com/wp-content/uploads/2015/11/sale-shopping.jpg
3840
5760
janine reso
http://citiesnstories.com/wp-content/uploads/2021/08/Cities-n-stories.png
janine reso
2015-11-11 20:30:03
2019-03-06 22:38:29
The holiday season! Things to do in The Netherlands.